"Don't touch those, their shards are deadly!"
Please do not edit this page without explicit permission. The only exceptions to this are grammatical errors, coding errors or reverting vandalism.
Sodalite
Nickname(s)

Soda/Soda-Pop

Alias(es)

Lil' Soda

Characteristics

Species

Gem

Sex

Sexless

Pronouns

Feminine

Orientation

Pansexual

Romantic Orientation

Panromantic

Age

8000 +

Traits

Speaking Style

Soft

Height

5.4 ft

Hair

White

Eyes

Blue

Gemstone

Sodalite

Gem Location

Top Forehead

Hardness

5.5-6

Professional Status

Occupation(s)

Technician

Team(s)

Outcast

Previous Team(s)

Homeworld

Class(es)

Scientist

Partner(s)

Eminence Obsanite

Personal Status

Status

Alive

Enemies

Scarlet Obsanite

Love Interest(s)

Eminence Obsanite

Allies

Red Spinel & Obsanite

Media

Theme(s)
Creator(s)
Voice
Personality
Sodalite is a little shy and skittish gem, she is always doing experiments, making little robots and weapons, but all of them usually explode or break, she always overcharges her creations.
She found protection in one of the section's bodyguard, Red Spinel, she was feared by the runts who bullied Sodalite.
Backstory:
She was activate along with other Sodalites units, but she always was the "odd one" around the other Technicians, since the first thing she did when Blue Diamond was checking on the new units, she electrocute another Sodalite in accident, hopefully she wasn't broke but she was separeted from the others, just to prevent any conflicts.
After that, Sodalite started to work for Blue Diamond, isolated for a long time, the other technicians barely talked to her, and sometimes she got bullied by some guards and other gems, until Red Spinel came to her sector one day to deliver some reports, she was being attacked for some rookie guards, then Red unsheathed her sword, poofing one of the guards in a swift motion. Sodalite was speechless, as the others runned away, Red became a good friends with Sodalite sicne that day, helping her with the "bullies", even if Red had some problems for "use of unnecessary force".
Appearance
Sodalite has a dark blue cloak, pervenche skin, white short hair, black pants with dark blue boots like Peridot, black gloves with blue diamond shaped symbol, also she has a visor, and a little dagger hidden (Red gave it the dagger to her before the war)
Abilities
Like most Gems, Sodalite can shape-shift, summon a weapon, fuse, and retreat to her gemstone to regenerate.
(Type: Electric)
Unique Abilities:
Electric Pulse: she can give a little shock to their enemies
Telekinesis: she can move little objects with her mind
Weaponry:
Dagger
Gem Destabilizer
Claymore (a gift from YCE)
Tracker Robonoids: these kind of robonoids are more smaller than the standard, they are specialist on track down minerals, objetcs, Gems, and another kinds of living creatures (depends on the programming), also they have a self defense weapon, an electric pulse and a destabilizer pulse.
Gemology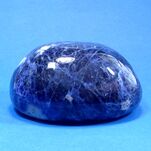 Sodalite is said to bring logic, inner peace, and calming energy. It is also believed to protect its wearer from negative energy and to help those who wear it to see the positive sides of others. In traditional Hindu belief systems, sodalite is associated with Vishuddha, or the throat chakra. This chakra relates to creation and self-expression.
Sodalite is a non-traditional birthstone for those born in December or under the sign of Sagittarius. In feng shui, sodalite possesses water energy and is thought to benefit occupational domains. Sodalite is said to assist athletes by improving endurance and motivation to achieve goals. Additionally, sodalite sometimes referred to as a "poet's stone" because it is thought to be conducive to writers. 
Physically, Sodalite is considered to be beneficial for the glands and helpful for weight loss, insomnia, calcium deficiency and the sinuses.
Sodalite's relationships
.Eminence Obsanite
Sodalite started to work with EO after her "accident", she feels really comfy around her since she has a calm personality. After sometime both started to developed feelings for each other, Sodalite eventually fell in love and now they are in a fusion relationship, fused as Staerililce.
Sodalite sees Red as a big sister, she always hides behind her looking for protection.
.Enptyious Quartz
EQ is Sodalite's bodyguard, even if she looks scary and big, she's very gentle with Sodalite.
.Yellow Chaos Emerald
Sodalite was in a romantic relationship with him, but she go tired of his stupidity and the fact that he dissapeared for no reasons.
.Obsanite
Sodalite has started to work for her, also she admires her as a scientist.
Sodalite's Fusion-list
x2 Fusions
Purple Velvet
Staerililce
x3 Fusions
Colossal Fusions
Sodalite's Gemstone
| Image | Description |
| --- | --- |
| | Sodalite's Gemstone is located on her forehead |
Trivia
Sodalite has electric powers but she doesn't know how to use them yet.
She doesn't like to be sorrounded by strangers.
Classical music is her favourite, and some electronic too...
Sometimes she lets her lab's door open, and things get inside.
Her lab is full of active Robonoids and is always all messy and dark
Her robonoids are sentient, and for some reason they pest people she likes.
She is curious about Earth stuff