... What? Can you speak louder?

This character is a work in progress and will be updated more in the future. Please keep this in mind when making a comment.
Rose Quartz
Nickname(s)

Roselyn

Characteristics

Species

Gem

Citizenship

Earthling

Gender

Genderless

Pronouns

Feminine

Traits

Gem Type

Rose Quartz

Gemstone

Rose Quartz

Gem Location

Neck

Professional Status

Affiliation(s)
Alignment(s)

Homeworld

Personal Status

Status

Lives on

Earth

Era(s)

Era 1

Media

Designer(s)
Creator(s)
Roselyn is a Rose Quartz, and a former follower of Pink Diamond who is currently in hiding on Earth.
Appearance
Roselyn is incredibly tall with a somewhat stout build. She has long, wavy, pink-red hair that extends slightly past her back. She has pink eyes, a bulky nose, and plump lips covered in hot pink lipstick. Her outfit consist of a pink-red skirt, a white sundress, and pink-red slippers. Her gemstone is located on her neck.
Personality
TBA.
History
Roselyn fought for Homeworld during the war for Earth. However, after the leader of the rebellion (Rose Quartz) shattered Pink Diamond, Roselyn and all of the other gems of her type were scheduled to be shattered. After overhearing a conversation between the diamonds about this news, Roselyn decided to flee to Earth with her pearl. However, her pearl's gemstone became cracked in the process, leaving Roselyn devastated. She now lives on Earth among other humans.
Abilities
Roselyn possesses standard Gem abilities, bubbling, shape-shifting, fusion, regeneration, agelessness, and superhuman strength/durability.
Gemology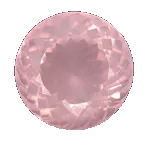 Gemstone Information
Rose quartz is a gemstone that has an association with healing, confidence, friendship, love, peace, compassion, empathy, beauty and heart, which perfectly describes Rose's personality.
Rose quartz is a rosy pink variety of quartz.
Its color is usually soft, ranging from very light pink to medium pink in intensity.
Rose quartz is a cheap and abundant stone and is frequently used for jewelry, often appearing in the shape of hearts and roses.
It is often called "Love Stone".
Rose quartz is said to balance emotions, and bring a sense of calmness and peace.
Rose quartz's chemical formula is SiO2::Ti, where the titanium impurities make them have a pinkish-red coloration.
Rose quartz is the Zodiacal sign for Aries, Taurus, and to an extent, Libra.
| Image | Description |
| --- | --- |
| | Roselyn's gemstone is located on her neck. It is a circular gem with a pentagonal facet. |
Gallery
Ad blocker interference detected!
Wikia is a free-to-use site that makes money from advertising. We have a modified experience for viewers using ad blockers

Wikia is not accessible if you've made further modifications. Remove the custom ad blocker rule(s) and the page will load as expected.