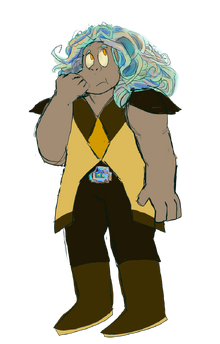 Appearance
Mixite has a tall, strong stature. She has golden-ish brown skin, and curly hair that is variants of dark blues, turquoises and golden yellows. She has gold eyes and wear's a yellow Diamond artisan outfit. Her gem is on her navel.
Personality
Mixite Bismuth is very clever and intelligent. She was the best blue-print maker in her court!! She has a strong passion for designing things.
Ability
As said before, she has amazing spatial skills and is good at designing things. Sadly, Mixite has poor motor skills. Her hands are shaky, so she can't construct perfect shapes like the other bismuths can. She also works more slowly. Because of this, shes considered off color
Relationships
Cloudy Amethyst- TBA
Blue Topaz- TBA
Pink Zircon- TBA
Ad blocker interference detected!
Wikia is a free-to-use site that makes money from advertising. We have a modified experience for viewers using ad blockers

Wikia is not accessible if you've made further modifications. Remove the custom ad blocker rule(s) and the page will load as expected.