Meayaty Romance is a fanfiction written by Pepearl, featuring characters created by Pepearl, Golden Forge, AmethystPearlFusion, AlexandriteTheCrystalFusion, Kinoba, The Tiny Peridot and Apple Papel. The story focuses on Confederate Bismuth and Ayanite, and the sudden beginning of their sexual relationship.
Aya credit to Alexandrite for the title!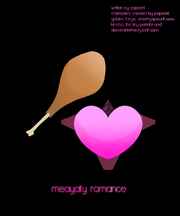 Cast
Main
Supporting
Neko Ayanite
Yandere Ayanite
Candy Quartz
Shadow Diamond
TBA
Chapters
WARNING
All chapters contain suggestive language, and chapter 2 and onwards feature sexual scenes.
3: The REAL True Meaning of Fusion