... What? Can you speak louder?

This character is a work in progress and will be updated more in the future. Please keep this in mind when making a comment.
Coral
[[File:
Identification Code

Coral Facet-2001 Cut-728

Characteristics

Species

Gem

Citizenship

Homeworlder

Pronouns

Feminine

Traits

Gem Type

Coral

Gem Location

Right leg

Professional Status

Alignment(s)

Homeworld Gem

Personal Status

Status

Era(s)

Era 2

Media

Designer(s)
Coral is a homeworld gem, and a follower of White Diamond.
Appearance
Coral has wheat colored skin, with light-brown strips around her arms, face, and neck. She has crimson colored hair that extends to back. She has plump lips, a triangle shaped nose, and blue eyes that are covered by semi-transparent visors. She is about 6 feet tall with a thin build. She wears bright-brown pants and brown boots, a sleeveless, bright-brown body suit with a darker brown V-neck collar and the White Diamond insignia in the center. Her gem is located on her right leg.
Personality
Coral is known to have a bit of an attitude. She is incredibly rude, she will make snide remarks and say things under her breathe about the gem she is helping at the bank she works at. Despite this, she is incredibly loyal to her superiors and gems that she admires. She is also a bit of a suck up, and can come off as a little fake when having conversations with her superiors.
History
Coral is a fairly new gem, she was made about 500 hundred years ago. She was instantly assigned to her job, which is a Bank Teller at a bank in White Diamond's district.
Abilities
Coral possesses abilities normal to an Era-2 gem. She is unaware of most of her abilities.
Unique Abilities
Stone Manipulation: Coral has the ability to control stone.
Tools
Gem Destabilizer: Coral has a Gem Destabilizer by the front desk at her bank. She only uses it for emergencies.
Relationships
TBA.
| Image | Description |
| --- | --- |
| | Coral's gemstone is located on her left leg, featuring a heptagonal facet. The front and back are symmetrical. |
Gemology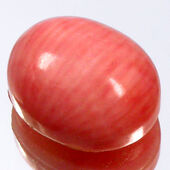 Gemstone Information
Coral is an organic material and like other organic gemstones, it is not an especially hard or durable gemstone. It has a hardness rating of 3 to 4 on the Mohs scale, which can easily help distinguish and identify coral from similar colored gemstones such as carnelian, rhodonite or spessartite garnet.
Precious coral typically exhibits a range of warm pinkish to red colors, including light-red to salmon (momo coral), and medium-red (Sardegna coral) to deep ox-blood red (moro coral).
Precious coral belongs to a small, but important group of gemstones, which technically are not stones at all. Rather than being minerals with crystalline structures like most colored stones, coral is formed through a biological process and thus belongs to an elite class of organic gems.
Since the beginning of the 1st millennium, precious coral has been highly prized as a gem believed to be endowed with mysterious, powerful and sacred properties.
Gallery
Ad blocker interference detected!
Wikia is a free-to-use site that makes money from advertising. We have a modified experience for viewers using ad blockers

Wikia is not accessible if you've made further modifications. Remove the custom ad blocker rule(s) and the page will load as expected.